This week in first-world problems: The camera adds 10 pounds…
"…The camera is like that bitch of a friend who's always the first one to tell you you've gained weight and the last one to wish you a happy birthday…"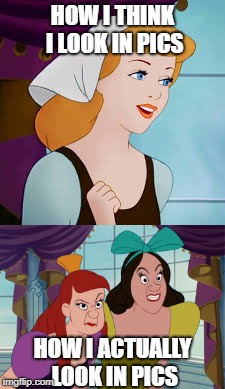 Picture this: It is Saturday morning and I am meeting with my photographer in 2 hours which leaves me with about one hour tops to get ready. But no matter how in a hurry I am, I somehow always have time for a quick 5 minutes dance session (insert John Travolta emoji here) followed by a quick 2 minutes face check (to make sure I haven't morphed into Cinderella's famously ugly stepsisters overnight). By the time I am done with these two "essential" activities I have already lost a good 15 minutes which puts me into overdrive for the remaining 45 minutes. Fast forward an hour later and I am miraculously done, with perfect make up and outfits for photo shoot in tow. Now comes the most important step in my entire morning routine: The mirror checks.
"…In my case, the camera usually doubles my butt, triples my belly, adds a double chin and remove a breast size…."
First thing first, the bathroom mirror check and the verdict is: "Hello beautiful". Second, my hand mirror, the verdict is still the same : "Hello beautiful". Walk to the bus stop and take a selfie (I obviously take this very seriously), verdict is even better: "spectacular".   I then arrive at said photo shoot location late but with a glow that not even the best filter can match and get compliments from hot buff guy in construction uniform (go ahead and use your unbridled imagination here). At this point, my ego is abundantly flowing through my veins like the Nile river. That day I went home looking smug and proud as if just named most beautiful woman on earth by Vogue. Fast forward two weeks later. Receive photos and the verdict is: 80 % of pics? "Mildly good looking with a risk of ugly". 20% of pics? "spectacular".
They say the camera adds 10 pounds but that is not completely accurate. I think the camera doesn't just add 10 pounds, it adds 10 pounds of bad fat and remove 10 pounds of good fat. In my case the camera usually doubles my butt (was born with a perfect butt so don't need that), triples my belly, adds a double chin and remove a breast size (throws outraged fist in the air). Now I don't mean to sound vain but I think I was created perfect but somehow the camera doesn't seem to pick up on that.
"when in doubt always chose to be beautiful."
But once again, since I am an ageing and vain little person, I decided to focus on the 20% and ignore the 80% and retire forever into the very comfortable and happy world of denial. Being vain saves lives, I tell you!
Thank you for passing by and don't forget to subscribe, like, comment or share this article and most of all I would love to hear your take on this "very serious matter" 🙂
Gros bisous!